From the Principal Desk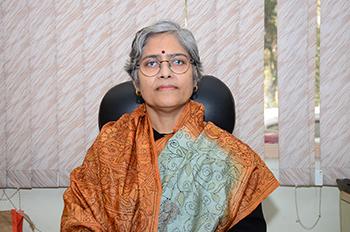 "Teaching is more than imparting knowledge, it is inspiring change.
Learning is more than absorbing facts, it is acquiring understanding."
– William Arthur Ward
It fills me with an overwhelming sense of joy and immense pride to see hundreds of students pursuing education at Gurukul International Sr. Sec. School and becoming responsible global citizens.
We feel proud to provide quality education by equipping our students with skills, confidence and a positive approach with an all-round development. The school is relentlessly striving to perceive and maintain academic excellence, at the same time encouraging the students to participate in various co-curricular and extracurricular activities. We create a safe social and physical environment that helps all our students learn and succeed. We encourage them to develop high expectations about themselves, their work and their behavior, which is an expression of our values of Integrity, Respect and Responsibility.
Our approach involves working with parents to meet the individual needs of each student, and supporting them to fulfill their academic and co-curricular goals and dreams. The broad range of opportunities and pathways are offered in the school to cater the diverse interest, needs and abilities of our students. Progress of an institution depends mainly on performance of the students in academics, sports and cultural activities along with maintaining high moral values. I am proud to say that our students are doing excellently well in academics, sports and cultural activities with high values and ethics.
The management is highly supportive for the overall development of the students and faculty. The magnanimous management takes keen interest and stands behind any such endeavour. Our governing body i.e. the SMC comprises of achievers in their chosen fields.
In a world that rewards perseverance, resilience, initiative, problem-solving and co-operation, our students leave well prepared for further life i.e. higher education, vocational training, employment etc. I am proud of the significant accomplishments of our students.
We believe that given such a conducive climate in the emerging globalism, our students will kindle their torches as compassionate, sensitive, enduring learners, problem solvers and proactive global leaders with strong work ethics and positive self-esteem bequeathing a better world.
God bless us all!
Praveena Jha
Principal